The Avesmingo is a food item, described as the "Fruit of 100 Flavors". It is red and bears a mango-esque appearance, sprouting from a tall green stalk with other, smaller fruits of varying colors. These smaller fruits are not harvestable, and are likely unripe Avesmingos. It can be grown by planting Avesmingo Seeds, which require two tiles of tilled dirt to grow on. The plant itself occupies an L-shaped space within a 2x2 tile area during all stages of growth.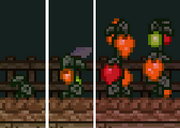 Ad blocker interference detected!
Wikia is a free-to-use site that makes money from advertising. We have a modified experience for viewers using ad blockers

Wikia is not accessible if you've made further modifications. Remove the custom ad blocker rule(s) and the page will load as expected.