Brain Extractor
Type
Weapon
Rarity
Rare

Tooltip
Terminating a common monster with this gun will extract its brain.
Sell Value
No Value
Crafting
Crafted With
Makes 1

---

350 x Pixels
10 x Steel Bars
Crafted At
Metalwork Station

The Brain Extractor is a gun that enables the player to obtain brains. Enemies killed with this gun can drop Inferior Brains as well as the Superior Brains needed to make the Robot Head, a part of the Inactive Robot.
As a weapon, the Brain Extractor is significantly less powerful than most other weapons of its tier, with a short range, high energy cost, and relatively low DPS. This makes severly injuring monsters with an efficient weapon before finishing them with the Brain Extractor a popular strategy when trying to acquire a Superior Brain.
The brain extractor only has a 7% chance of yielding a superior brain: 93% percent of the time, the user will recieve an inferior brain, which do not currently have a use. As 20% of monsters do not drop any brains, the overall chances of getting a superior brain from any given monster are about 5.6%. Note that NPCs do not drop brains when killed with this weapon, and tend to drop a food item instead.
Note: As of a recent update, (We're looking around the Giraffe segment here!) you are unable to get this weapon in your inventory without the use of mods or cheats.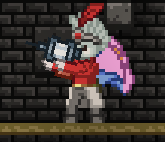 Ad blocker interference detected!
Wikia is a free-to-use site that makes money from advertising. We have a modified experience for viewers using ad blockers

Wikia is not accessible if you've made further modifications. Remove the custom ad blocker rule(s) and the page will load as expected.