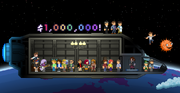 These articles are about Stretch Goals.
Stretch Goals in Starbound was announced to help grab the communities support in getting their budget goal of $1,000,000 by pre-ordering the game. There were three milestones to unlock if the developers reached a certain target, the first was $500,000 which unlocked the first stretch goal which was the Novakid , the second $750,000 which unlocked the second stretch goal the Fossils. and $1,000,000 was the last stretch goal which unlocked the Starter Pets.
Due to the success of obtaining one million dollars, the Starbound team has promised the three stretch goals wouldn't interfere with the release date as they will be bringing extra staffs to help work on them.
Pages in category "Stretch Goals"
The following 3 pages are in this category, out of 3 total.
Ad blocker interference detected!
Wikia is a free-to-use site that makes money from advertising. We have a modified experience for viewers using ad blockers

Wikia is not accessible if you've made further modifications. Remove the custom ad blocker rule(s) and the page will load as expected.