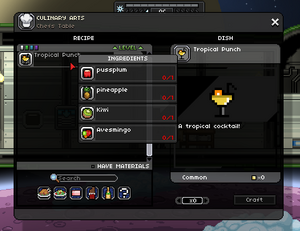 This page is lacking information. Feel free to add more information to this page to make the wiki a better place! If you see another page that needs information, add this template to it and add the category "Needs Information" as well so that other contributors can help out in adding to the article.

Reason: Complete List of Foods
Food is a type of consumable item which will have effects on the player's health and hunger. Food is divided into various categories, including Entree, Sides, Snacks, Drinks and Desserts. Food can be cooked at a Camp Fire .
The player will be able to craft food using the Culinary UI, accessed at various kitchen counter-style items. Many ingredients will be available, including crops, meat, and other materials. Some of it will require cooking to reap the full benefits. 
Each category of food will have it's own use. Foods and other consumables, on top of having health, hunger , and possibly status effects , will be able to be placed on tables and other platforms for decoration.
List of Foods
Edit
This list is incomplete. Feel free to correct/add any additional food data to this list.
Each race will start with its own set of 6 recipes, but players will be able to learn every other race's recipes as well by using blueprints.
Ingredients
Edit
All recipes will require certain ingredients to make. Most ingredients are farmable. Many ingredients can also be eaten by themselves, however a completed food item is more beneficial to a player than just eating an ingredient.