Quests are tasks that the player can undertake in Starbound. They are usually given by NPCs, and the player will often be given a reward when a quest's objective is complete. Some quests will also be procedurally generated. As of right now, quests are assigned to whole parties, and rewards are given per player.
Quest list
Edit
Tier 1 - Main Story Quests
Edit
Missions (Full quests)
Edit
Erchius Mining Facility. All races. Boss: Erchius Horror. Requires: coordinates from Quest gained at the Outpost, Breathing suit.
Testing Facility Mk1. All races. Boss: Dreadwing, Requires: "Be Prepared" Quest, Titanium Armor.
Floran Hunting party. all races. Boss: Armed Floran. Requires: Durasteel Armor
Testing Facility MK2. All races, Boss: Shockhopper Mk1 Requires: Aegisalt/Rubium/Violium Armor
Quest Tutorials
Edit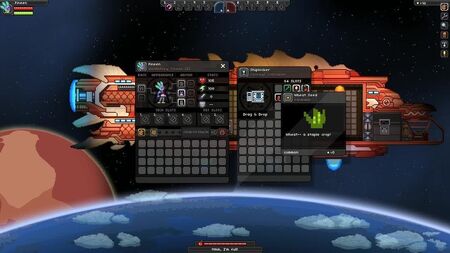 Ad blocker interference detected!
Wikia is a free-to-use site that makes money from advertising. We have a modified experience for viewers using ad blockers

Wikia is not accessible if you've made further modifications. Remove the custom ad blocker rule(s) and the page will load as expected.