The 
Tentacle Comet
 is one of the bosses in 
Starbound
. There is no way to summon it in the current stable beta version (Pleased Giraffe) or the unstable beta version or the nightly build (rampaging Koala) and it is not known if it is even in the game. The only known way to find info on it is to look at its config files. It is shown to have 600 base health. It appears as a large brown rock that floats. It is covered with craters and, strangely, three eyes are visible. They are individually seen in their own craters. Also, based on the animation files, it seems that these craters are one of the Tentacle Comet's main attacks. Tentacles will emerge from the holes and wave around, which is probably a melee attack. It will also attempt to fall onto you. This attack is made known by when it rises and falls, with fire forming below itself. In the Starbound beta trailer, the Tentacle Comet is seen with all of its tentacles in. The Tentacle Comet was not seen on a tentacle planet though, so the
Tentacle Biome
may have no relation to this boss.
Tentacle Spores
 are seen on the ground too. The trailer also shows that the Tentacle Comet is flying, making a ranged weapon suitable for killing it. There is very little known about this boss.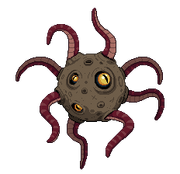 Ad blocker interference detected!
Wikia is a free-to-use site that makes money from advertising. We have a modified experience for viewers using ad blockers

Wikia is not accessible if you've made further modifications. Remove the custom ad blocker rule(s) and the page will load as expected.