Toymaker's Table
Type
Furniture
Sub-Type
Crafting Station
Rarity
Uncommon

Tooltip
For all your holiday crafting needs!
Sell Value
No Value
Crafting
Crafted With
35 x Wood Planks

The Toymaker's Table is an uncommon table, only obtained with a crafting table by crafting 35 wooden planks. It's appearance is quite similar to that of the Robotic Crafting Table. The Toymaker's Table can craft a wide variety of Christmas items. Ex: Christmas trees, stockings, presents, costumes, etc. In order to craft these items, you will need to have 'Holiday Spirits' which are obtained by killing monsters. The Toymaker's Table was released on 12/23/13. Later on 12/23/13 it was updated to have elves on top of the table, rather then having the robotic arms.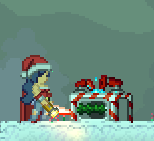 This item was removed as of the Furious Koala Patch along with Holiday Spirit and the items it could make with them.
Ad blocker interference detected!
Wikia is a free-to-use site that makes money from advertising. We have a modified experience for viewers using ad blockers

Wikia is not accessible if you've made further modifications. Remove the custom ad blocker rule(s) and the page will load as expected.