Wheat is a food obtained through farming. Wheat Seeds for growing wheat can be found on the planet surface or in chests. It needs two blocks of tilled dirt to grow on. Despite their appearance when full-grown, wheat plants occupy only a 2x1 area during all stages of growth.
Wheat takes 1-2 minutes to grow to full maturity if the player is nearby the entire time. It can take 3 times as long if the player is not nearby. To harvest the fully grown wheat, move the cursor over it and press E.
Wheat plants frequently produce more seeds than were planted, provided that it is broken during the 3rd stage of its 3 stages of growth. If you break it during the 2nd stage, it will give plant fibre and some wheat, but no seed.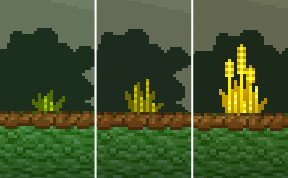 Ad blocker interference detected!
Wikia is a free-to-use site that makes money from advertising. We have a modified experience for viewers using ad blockers

Wikia is not accessible if you've made further modifications. Remove the custom ad blocker rule(s) and the page will load as expected.